The Bandit Hunter is a HTML5 Shooting Game. The city bank is being robbed! Save the city from the evil bandits, shooting only the bad ones and rescuing the hostages!
Kill all the bandits to reach the next level until the end of the game, and you will win your glory in the Far West!
Please read the documentation to get more info!
This game has been developed with Construct 2 R207 release: https://www.scirra.com/construct2
The ZIP package contains the game at 810×540 resolution that scales to fit current screen device.
The game is fully compatible with all most common mobile devices. We just can't ensure full compatibility with the audio on all devices.
WARNING:
The game contains some non-native plugins / behaviours you need to install before using the package.
Please refer to the documentation for a detailed list of these plugins/behaviours and their link.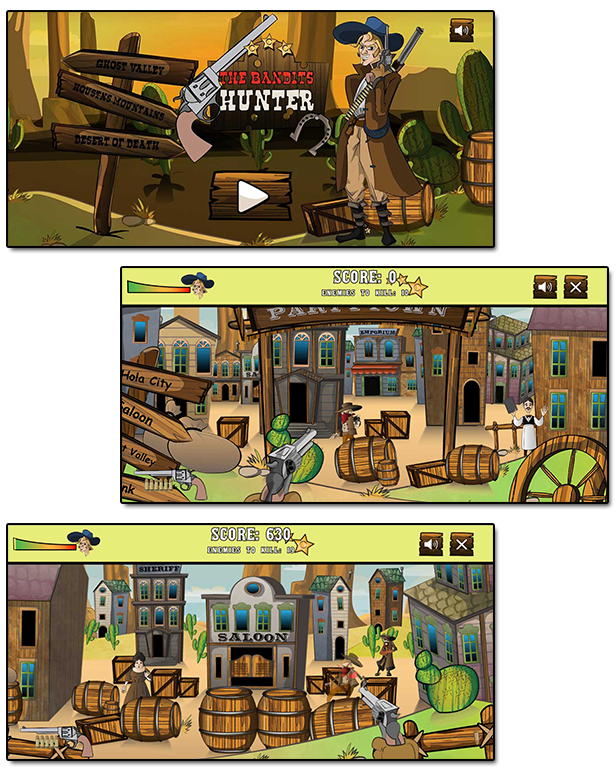 This game is fully compatible with CTL Arcade
A WordPress Plugin that allows you to create a real arcade on your website.
Easy to Install
With CTL Arcade you can:
Monetize with your games adding Ads Banners
Promote your website with Social Share Buttons
Improve our games with Leaderboard, and Rating Feature
=== Even if we do our best to minimize any inconvenience, we can't ensure the full compatibility of all our games on every device and every operating system update.
Thank you for the understanding. ===
YOU MIGHT ALSO BE INTERESTED IN: